August 23rd, 2021
Hello FAA Friends. I've been away longer than preferred while dealing with in-person art events. For 1, I'm currently assisting a museum with an exhibition expansion project. Who knew it would turn out to be so labor-intensive. For 2, please check out the news release link below posted here at FAA about my work in an exhibit at the Savannah/Hilton Head International Airport. Wish everyone the very best. Please stay safe,

https://fineartamerica.com/pressreleases/faa-silk-featherbrush-artist-makes-offline-debut-in-savannah-hilton-head-international-airport-exhibit.html
September 3rd, 2020
I wasn't planning on creating any visual art connected to the book "Greeting Flannery O'Connor at the Back Door of My Mind" while writing it. I guess it's something of an indication of O'Connor's own intense creative vision that as I wrote my reflections on the impact of her cultural legacy, additional forms of creative expression began to take shape. These are a few of them currently on FAA:


1) Greeting Flannery O'Connor at the Back Door of My Mind (url: https://fineartamerica.com/featured/greeting-flannery-oconnor-at-the-back-door-of-my-mind-aberjhani.html )


2) Converging Grace Number 1 with Text (url: https://fineartamerica.com/featured/converging-grace-number-1-with-text-aberjhani.html )


3) Converging Grace Number 2 without Text (url: https://fineartamerica.com/featured/converging-grace-number-2-without-text-aberjhani.html )


4) Glorious Morning in the Garden of Justice and Mercy (url: https://fineartamerica.com/featured/glorious-morning-in-the-garden-of-justice-and-mercy-aberjhani.html )


Aberjhani

April 7th, 2020
What's an artist to do in a pandemic time such as the one we're currently living through? Hopefully we inspire, empower, and help the world the world heal from the horror. That at least is my goal with the new series collection on Fine Art America at this url:

https://fineartamerica.com/profiles/posteredchromatic-poetics?tab=artworkgalleries&artworkgalleryid=909030

February 22nd, 2019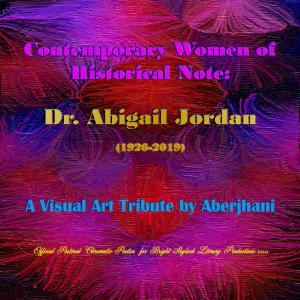 On July 27, 2002, journalists and everyday people from virtually every region of the United States and from around the world made their way to Savannah, Georgia, where they joined local inhabitants to witness the dedication of the African-American Family Monument on River Street. The event was the culmination of a decade-long battle waged by Dr. Abigail Jordan to make certain that in a city renowned for its historic parks and monuments, at least one would stand in recognition of the contributions of African Americans to city.

Since that day, Dr. Jordan has become one of Savannah's most celebrated figures. Just before the monument's dedication, she had been named Woman of the Year by the Beaufort Gullah Festival in Beaufort, South Carolina. November 12, 2005, the African American Business Magazine presented her with the Fannie Lou Hamer Award and named her one of 100 Black Women of Influence. She died on January 9, 2019. In celebration of her life and legacy, new artwork was posted at:
https://fineartamerica.com/featured/historic-triumph-of-dr-abigail-jordan-aberjhani.html

Aberjhani
author of Encyclopedia of the Harlem Renaissance
and The Wisdom of W.E.B. Du Bois

December 20th, 2018
I've always felt a fresh perspective capable of generating effective new insights, and therefore approaches, to lingering problems is one of the most valuable contributions any artist can make to society. Yet it seems marketplace outlets often penalize artists for their originality by limiting access to their works in favor of those who follow more conventional formats. Is there a solution to such a strange paradox?

I admit a recently-posted work of my own with the word "Original" in its title is part of the reason I'm contemplating the question at this time. But it is one I've known many artists to grapple with throughout their careers. Very few have been able to "break through" and gain the kind of equal marketplace footing they felt their work deserved.

Aberjhani

December 19th, 2018
Without being aware that the great jazz and blues singer Nancy Wilson was battling serious illness at the time, on December 5, 2018, I posted an art portrait in tribute to her. Yesterday, I was informed that she passed on December 13. Prior to Ms. Wilson's passing, I shared the story of what her music had come to mean to me in the description for the artwork titled "These Colors I Hear When Nancy Wilson Sings Turned to Blue." I invite you to visit the page here on Fine Art America:
https://fineartamerica.com/featured/these-colors-i-hear-when-nancy-wilson-sings-turned-to-blue-aberjhani.html

Aberjhani


October 23rd, 2018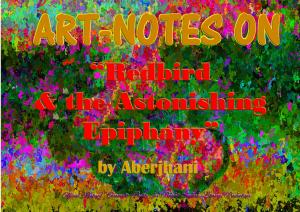 Originality is one of the most valuable features of Postered Chromatic Poetics artwork and that feature is on full display with the new Redbird Series print, "Redbird and the Astonishing Epiphany." This landscape-formatted digital painting places the popular Redbird inside a realm of swirling bright colors framed by surrounding horizontal lines of blue, gold, and rust. In addition to making the perfect selection for a wall space in the home or workplace, it is an exceptional design for items ranging from tote bags and t-shirts to blankets and iPhone cases.

To view the work please click this link or the one at the bottom of the page: https://fineartamerica.com/featured/redbird-and-the-astonishing-epiphany-aberjhani.html

To save 30 percent off the mark-up on this and other Postered Chromatic Poetics artwork from now until December 31, 2018, please use promo code HSPRXZ when checking out.

FROM THE ART PRODUCT DESCRIPTION:
In each of the previous installments, such as "Redbird Sifting Beauty Out of Ashes" and "Redbird Speaking Compassion to Power," the North American Cardinal bird is posed to share gentle commentaries on the human condition. In this one, Redbird comes to the conclusion that life's painful confusions or humorous simplicity possibly have more to do with how an individual views a given situation than the external factors themselves. That epiphany for our feathered hero is astonishing but also liberating.

The blue, yellow, gold, and indigo landscape surrounding the centerpiece symbolizes the tranquility which can come with awareness expanded beyond immediate anxieties.

Aberjhani


October 23rd, 2018
The portrait-formatted "Alley-Wall Paradise" is a rich chromatic photography example of nature's resiliency as exemplified by colorful vines growing in a distinctly urban location: an alley. It is not a place where most would expect to discover beauty. That beauty in this instance was already complemented by the background of the turquoise wall and pipe it grew against. It was further enhanced by the artwork's surrounding sapphire blue portrait of additional vines and Postered Chromatic Poetics' signature digital processing. You can check out this art design at this link: https://fineartamerica.com/featured/alley-wall-paradise-aberjhani.html

To save 30 percent off the mark-up on this and other Postered Chromatic Poetics artwork from now until December 31, 2018, please use promo code HSPRXZ when checking out.

DESCRIPTION FROM ART PRODUCT PAGE:

"Autumn is a second spring when every leaf is a flower." --Albert Camus (1913-1960)

"Alley-Wall Paradise" is the second official installment of the "Grow Where Life Puts You" art series gallery. In keeping with the series theme, I borrowed the above quote from author Albert Camus because it so perfectly fit what I felt when I saw an alley wall covered with clinging vines. The leaves were just beginning to change from green to the autumnal colors of red, yellow, orange, and brown. Some of the vines, like the one seen here, had tiny dark berries on them.

October 12th, 2018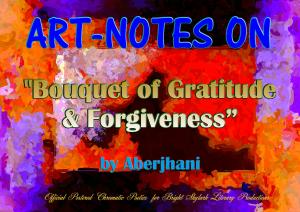 "Bouquet of Gratitude and Forgiveness" is a particularly good art choice for the autumn season and moving toward the end of the year because the theme accommodates diverse cultural celebrations observed during this period. However, the flowing cascade of flowers emerging out of a multi-layered background make it as strong an addition to hotels, restaurants, or offices as it does to family rooms or community centers any time of the year.

This work was originally created as part of an in-progress stage play and consequently is highly collectible. Until December 31, 2018, It may be purchased at 30 percent off using promo code HSPRXZ. Please view it at this link: https://fineartamerica.com/featured/bouquet-of-gratitude-and-forgiveness-aberjhani.html

FROM THE ART PRODUCT PAGE:
A television interviewer once asked singer-actress-dancer Jennifer Lopez how she dealt with negative tabloid stories about her personal life. Lopez surprised a lot of people by answering, "I always bring it back to gratitude." By making gratitude the foundation of her attitude towards nearly everything, she avoided the kind of distractions which could disrupt or completely block the flow of creativity on which a performance artist like herself depended very heavily.

Lopez's response made a lot of sense to me because dealing with certain issues had already led me to the same conclusion. My equation also included striving to forgive those who cause us grief. Hence, the title of the piece seen here: Bouquet of Gratitude and Forgiveness. To my mind, the two combined are what make any notions of love realistic and sustainable.

Aberjhani

October 12th, 2018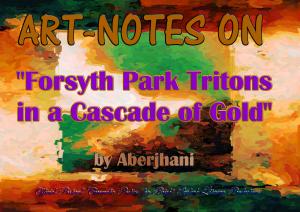 The signature production process which gives each Postered Chromatic Poetics artwork its individual appeal makes an exceptionally good fit for the landscape-formatted "Forsyth Park Tritons in a Cascade of Gold." Buyers who have already purchased either "Champagne Twilight: Forsyth Park Fountain in Savannah, Georgia (USA)" or "Sepia Afternoon: Forsyth Park Fountain in Savannah, Georgia (USA)" might consider acquiring this as a companion piece which focuses on the fountain's famous Triton sculptures.

The splashing gold hues and luminous digital matting and frame of this artwork make it an elegant addition to any home. It also makes it a very impressive one to work environments. Please view it by clicking or pasting this link: https://fineartamerica.com/featured/forsyth-park-tritons-in-a-cascade-of-gold-aberjhani.html

Until December 31, 2018, It may be purchased at 30 percent off using promo code HSPRXZ.

FROM THE ART PRODUCT PAGE:
I tend to refer to the half-men half-fish beings who inhabit the Forsyth Park Fountain in Savannah, Georgia, as mermen. That is not an error, but students of mythology might prefer to call them Tritons. In Greek mythology, they are described as the demigod sons of the sea god Poseidon and Amphitrite, his beloved. Like the Tritons of Greek myth, the ones which inhabit the Forsyth Park Fountain carry twisted seashells through which they blow streams of water (the ones from mythology used their shell-horns to manipulate the flow of waves).

According the Smithsonian Art Inventories Catalog, Janes, Beebe & Company modeled the Forsyth Park Fountain (with some changes) "after a cast iron fountain designed by the J. P. Victor Andre Iron Foundry for display at the 1851 Crystal Palace Exhibition in London, which in turn was modeled after a fountain on the Place-de-la-Concorde in Paris, France."

Aberjhani