July 20th, 2018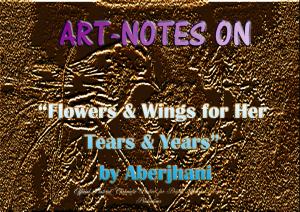 This print was almost titled Roses and Wings for Caring and Giving because of the subject which inspired it. Elderly matriarchs in most large southern families in America have traditionally been taken care of by younger female relatives when the time for such attentiveness came. The situation was different in the case of this family portrait. The matriarch seen seated in the lower left corner was looked after by an adult son, standing behind her.
More and more people around the world are coping with the issue of caring for the elderly as different countries' populations age. Depending on the culture, some see the challenge as a burden while others view it as a blessing or ennobling responsibility.

The flowers in this instance represent an accumulation of the woman's grace over the years and also the gifts of wisdom and patience that make caring for each other possible. On the woman's dress is a glowing winged figure carrying a yellow rose but the figure itself appears empty on the inside. This emptiness is symbolic of the loneliness from which many elders (and Millennials for that matter) tend to suffer on our planet even though we number in the billions with individual mega-cities containing populations of more than 15 million. Moving toward the woman to help alleviate the pain of loneliness is another winged figure bearing light and carrying a rose to fill the painful hollow void. The caregiver benefits as much from this exchange of beauty and intentional compassion as the one receiving care.

I wanted a frame for this print that would function as an extension of the artistic theme and of the portrait itself, so worked to construct one of gold-embossed flowers to do exactly that. Felt humbled by the surprising results.

Aberjhani
©June 2018

July 20th, 2018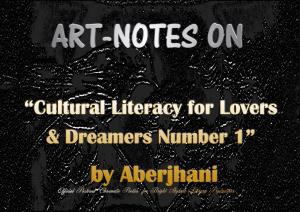 This abstract print along with it corresponding piece, Cultural Literacy for Lovers & Dreamers Number 2, was created out of recognition of the millions of people currently #seeking relief from war, starvation, terrorism, gun violence, drug addiction, & various forms of intense struggles in the world.

The concept of cultural literacy has become an important one as #immigrants attempt to #assimilate into new #communities across the globe. It has also increased in significance as diverse demographic groups--like #Women, Latinos, LGBTQ, #Asians, Middle Easterners--within various countries have begun exercise considerable political power and social influence.

The symbols of opposition in the #painting see here are easily apparent but these are not what ultimately define it. The discerning #viewer will also notice harmonizing forces attempting actions which ultimately result in mutually-beneficial unions. It is a visual representation of one of those strange things about human beings wherein we somehow often manage to extract out of our individual and collective suffering different kinds of #beauty: such as #love, compassion, & yes, art.

My hope is that all the abstract works in this gallery containing this image reflect some of our capacity for transforming grief and horror into inspiration, healing, and love.

July 20th, 2018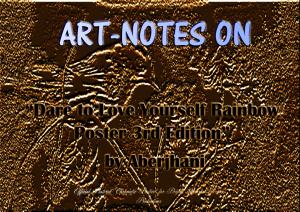 Providers of some friendly feedback regarding the first two posters in my Official Dare to Love Yourself Series suggested that, for their specific tastes, the images were "pretty but kind'a tame." I heard them well enough and for this third edition in the series kept the basic visual formula while upping the ante on the color-impact factor. The rationale behind critiques seemed to center on the idea that love in all its forms should exhibit energetic sustainability. (Honestly not sure what was meant by that but giving it my best shot.)

I have posted about the origins of this quote here at Fine Art America, my Bright Skylark Literary Productions website, and on different social media. It has been famously tweeted by folks like David Bowie's widow Iman, and actor and rapper LL Cool J. For those who missed previous posts, here is a little background info taken from my book, Journey through the Power of the Rainbow:

"It came from the poem 'Angel of Healing: for the Living, the Dying, and the Praying.' A kind of rainbow-striped light bulb went off in my head as I noted the poem was part of the original Songs of the Angelic Gaze series written in 2006 during what I have come to call the summer of the angels...That particular haiku stanza [Dare to love yourself/ as if you were a rainbow/ with gold at both ends.], I had hoped, would speak some faith into the hearts of the 33,300 young, old, and in-between cross-cultural individuals in the United States alone on their way to committing suicide; and to the 20 million, according to the World Health Organization, throughout the Global Village who attempted suicide every year.

"Whether naïve on my part or not, it seemed worth taking the time to try to convince others that their lives possessed beauty and meaning worth preserving and honoring. I had hoped too that these lines might help persuade those silently combusting inside suppressed rage and muted disappointments to express their painful frustration in ways other than mass murder. If they could recognize and celebrate value within themselves, then perhaps they could allow the same in regard to those upon whom they projected their own self-loathing and sense of worthlessness." (from Journey through the Power of the Rainbow)

Aberjhani
© July 2018

May 11th, 2018
The current celebration of the 10th anniversary of ELEMENTAL, The Power of Illuminated Love, continues this week with the posting of two new print images: Portrait of the Poet as an Angel Drunk on Love, and, Black When Haitians Were Heroes in America (first in a series of 4).

The beautiful irony of this part of the celebration is that for the original ELEMENTAL book and museum project sponsored by the Telfair Museum of Art in Savannah, Georgia, my contribution consisted of poetry and essays. For this 10th anniversary celebration, following the passing in 2016 of my co-creator, Luther E. Vann, on the original work, I am now producing visual and literary art.
You can learn more about the 10th anniversary celebration here: https://www.author-poet-aberjhani.info/author-statement.html

In addition to commemorating the anniversary of ELEMENTAL, I like to think the new images on Fine Art America also pay some small tribute to the creative vision manifested in Vann's work. That would, in addition, mean acknowledging the exemplary labors of such Harlem Renaissance artists as Romare Bearden and Beauford Delaney.

You can check out both new images by clicking on the link. The extended descriptions of each can give you some idea of what inspired the titles and creation of the images themselves.


Aberjhani
July 17th, 2017
I have received a lot of encouragement from the great community at Fine Art America since joining a couple of months ago and today was notified about my first sale. It is for of a pack of Official Chromatic Poetics greeting cards titled "Eugene Talmadge Memorial Bridge The Morning After Hurricane Matthew No. 2."

Have to admit to being very moved by the sale of this particular image because the black and white composition was inspired by the work of my late great friend photographer Jack Leigh.

With hurricane season now fully upon us, this particular image along with the artwork titled "The Hurricane and the Confederate Monuments" make good reminders to plan ahead for possible catastrophic weather conditions. The link is to the Talmadge Bridge image that sold.

May 15th, 2017
Fountains are among the most admired ornamental manmade structures because they combine the artistic beauty of refined sculpture with the precision of engineering and architecture. Celebrated examples can be found all over the world, including Savannah, Georgia. One of the city's most famous is the subject of two new Postered Chromatic Poetics images. Below is the text for them and although I like both, I confess to being particularly pleased by the results achieved with Champagne Twilight:

CHAMPAGNE TWILIGHT: FORSYTH PARK FOUNTAIN IN SAVANNAH, GEORGIA (USA)

The elegantly-sculpted Forsyth Park Fountain, also referred to as the Versailles Fountain, dates back to the 1850s when model for it was derived from French-styled designs of the period. Along with the Confederate Monument, this is one of the primary centerpieces of Forsyth Park. The present-day fountain is the result of many renovations over the past century and a half, including a complete restoration in 1988.

A robed woman adorns the top of the fountain as water birds and tritons (or mermen) spout water below. In addition to benches that allow passersby to sit and enjoy the view, the fountain is surrounded by moss-covered oaks, palm trees, magnolias, and elms.

Prior to becoming known as Forsyth Park, the location during the Civil War was the South Common military encampment where POWS and a hospital were maintained.


SEPIA AFTERNOON: FORSYTH PARK FOUNTAIN IN SAVANNAH, GEORGIA (USA)

A solitary figure stops in front the Forsyth Park Fountain to enjoy one of the city of Savannah's most popular and majestic attractions.
Ever since the days following the American Civil War, the fountain has been a favorite location for residents and visitors alike to take photographs. During the war, the park was known as the South Common military encampment where prisoners of war, a hospital, and poor house were maintained.

The fountain's spraying water is dyed green every year in celebration of St. Patrick's Day. In this image, late afternoon sunlight on a hot summer day creates an amber sepia haze that colors the air and water, slightly clarified and enhanced by digital filter.

Aberjhani

May 15th, 2017
The Dare to Love Yourself "movement" had nothing to do with National Selfie Day when it began to slowly develop ten years ago. The well-known quote--"Dare to love yourself as if you were a rainbow with gold at both ends."-- as many are now aware, originated with the poem Angel of Healing: for the Living, the Dying, and the Praying.

The poem was first published in the book The Bridge of Silver Wings and later in The River of Winged Dreams. It has become increasingly popular over the past few years as a rallying cry to support suicide prevention and to discourage suicide bombers. The association with National Selfie Day was never intentional but obviously a natural one which hopefully helps encourage not narcissism but a positive healthy self-image and a deep appreciation for all life.

The following descriptions are for recently-added images that celebrate the potential healing capacity of love in all our lives:


AS GOES LOVE, SO GOES LIFE

The title of this artwork comes from the poem "The Poet-Angels Who Came to Dinner" published in the book The River of winged Dreams. An earlier alternative version features a different color scheme.

The design used for this one was chosen because instead of idealizing hopes centered around romantic love, it seeks to evoke to many nuances of all kinds of love: family, spiritual, friendship, joy of living, pursuit of creative goals, etc. It also acknowledges that Love is often as much a struggle to maintain as it is a pleasure to be enjoyed.

The complete first stanza of the poem from which the quotation was taken reads as follows:

I.
Neither had been invited but both were welcomed.
They spoke through wordless intuition, cool nods of
"Peace-Be-Still," and, "As-Goes-Love-So-Goes-Life."


DARE TO LOVE YOURSELF ON NATIONAL SELFIE DAY

Loving yourself isn't just about the photographs we post to our social media profiles to show the world we know how to have fun. It's mostly about recognizing where we fit in the larger scheme and how our lives contribute meaning and value to the world. This the poem, published in The River of Winged Dreams, from which the dare-to-love-yourself quote is taken:
Angel of Healing: for the Living, the Dying, and the Praying

1.
As you bury flesh––
honor spirit, savor hope,
cherish memory.

Consider heaven
as a world-weary stranger
asleep in your heart.

Quote words that affirm
all men and women are your
brothers and sisters.

Pull the child away
from feeding at the mule's tail.
Give the baby food.

2.
Compassion crowns the soul with its true st victory.
Hearts rebuilt from hope resurrect dreams killed by hate.
Souls reconstructed with faith transform agony into peace.
Wisdom applied internally corrects ignorance lived externally.

3.
Dare to love yourself
as if you were a rainbow
with gold at both ends.

Write a soft poem
to one you called bitch, shit head,
nigger, fag, white trash.

Live certain days dressed
in your lover's smiling soul
while she, he, wears yours.

Imagine your mind
wings intent on expanding
and watch your joy fly.

Aberjhani
May 2017

May 4th, 2017
Who hasn't at some point wished they could just fly off somewhere, like birds or other winged things, without dishing out cash for a ticket or becoming unwillingly intimate with pat-down procedures? My homage to winged beings actually began a long time ago but here at Fine Art America I'm approaching a favorite symbol from a new angle with two new images:

BEAUTIFUL FLIGHT OF PEGASUS AND THE GOLDEN EAGLE

"In the valley of the shadow of broken worlds your wings dazzled and light reclaimed its beautiful power."

Aberjhani (from The River of Winged Dreams)

The winged horse Pegasus and the Golden Eagle are two of our most powerful symbols from mythology and nature. The beauty of both have been known to inspire courage and hopefulness during times of personal crisis or chaotic upheavals in the world.

The quote in fact is from a poem about Christmas, but you think about all the disorder and instability currently shaking up world communities it fits well.
The sample presented with this post is a horizontal detail from the larger piece.

WE'RE STILL HERE AND HOPE YOU ARE TOO

This shot of 4 seagulls on a River Street pier in Savannah, Georgia, is another taken the morning after Hurricane Matthew downed trees and swept water throughout the city.

A lot of people avoided the threat of physical from the hurricane by evacuating the city before it hit. Others huddled together either in the sturdiest structures they could find or wherever they happened to be.

But it always seems a mystery how seagulls and other birds and animals manage to survive such powerful weather events then show up the next day looking as calm as this flock. To me, their countenance seems to quietly state: We're still here and hope you are too.

Aberjhani

May 4th, 2017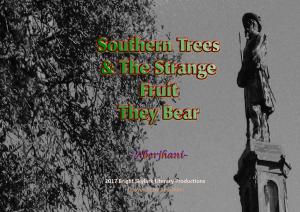 One of the hardest questions posed by recent headlines in the U.S. has been: How do we come to terms in 2017 with legacies of an American past during which racism and other forms of social injustice were openly practiced? It's not a question that can be ignored because we're seeing so many of the results from it in the form of a rising number of hate groups and more overt promotions of fascist and nihilistic ideologies.

Several of my newest Postered Chromatic Poetics images examine the roots of some lot of the negativity--from racial tension and the economic divide to religious conflicts and the gender gap-- we're seeing now. They are less about shouting out accusations than about inviting reflections. The following are the text for them:

SOUTHERN TREES AND THE STRANGE FRUIT THEY BEAR (I)

I don't think Billie Holiday would mind me paraphrasing hers and Lewis Allen's famous song for the title of this image: Savannah's famous Confederate Monument as seen through curtains of gray Spanish moss hanging from the limbs of an oak tree in Forsythe Park.

Like many such monuments throughout the southern United States, notably the one recently removed from a public space in New Orleans, this one has been the subject of some controversy. You can't really tell by the angle used here but this is one of the largest Confederate monuments in the country.

The gentleman who posed for it was Civil War veteran Hamilton Branch.



SOUTHERN TREES AND THE STRANGE FRUIT THEY BEAR (II)

This is a variation on the first Southern Trees and the Strange Fruit They Bear.

Like many such monuments throughout the southern United States, notably the one recently removed from a public space in New Orleans, this one has been the subject of some controversy. You can't really tell by the angle used here but this is one of the largest Confederate monuments in the country. The gentleman who posed for it was Civil War veteran Hamilton Branch.


EUGENE TALMADGE MEMORIAL BRIDGE AND THE SERIOUS POLITICS OF NECESSARY CHANGE

A lot of articles have been written about why the name of the bridge spanning the Savannah River between the city and Hutchinson Island needs to be changed. Simply put: many feel it endorses white supremacy and ignores the obvious painful affront to Savannah's majority African-American population and its larger progressive diverse community.

During a 2016 "Span the Gap" initiative advocating for the change, a reporter named Janet Leigh Lebos asked for my input on the issue. The following is from her articled published in CONNECT SAVANNAH:

"Well, thus far it seems because the will of Savannah's citizenry has been thwarted by the intimidation ploys of a few bullies—tactics familiar to Eugene Talmadge, who used them to oppress and abuse anyone he didn't like. That's what we're memorializing unless we support our elected officials in getting this done already—not next session, not next election cycle.

"'It should not be necessary in 2016 to stage marches across the bridge or have sit-ins on it to disrupt the illusion, or delusion, of normalcy in order to bring about a crucial intelligent change,' counsels Aberjhani.

"It shouldn't be necessary, but maybe that's what it will take. It actually sounds pretty awesome: To climb to the apex of that two-mile marvel with our neighbors and friends as the giant ships sail beneath, hand in hand as we stand up in the name of connecting Savannah with the right side of history."
(Janet Leigh Lebos, CS, April 13, 2016, http://www.connectsavannah.com/savannah/name-shaming-the-talmadge-bridge/Content?oid=3432869 )

Aberjhani
May 2017

April 26th, 2017
I just added 3 images to a new FAA collection called Sojourns in Cosmopolitan Multicultural Savannah. Because the city is an odd mixture of diverse cultures framed within some intense southern history, the text provides a bit more background than what is used for most collections. They are, beginning with the description for the collection itself, as follows:

Sojourns in Cosmopolitan Multicultural Savannah: https://fineartamerica.com/profiles/posteredchromatic-poetics.html?tab=artworkgalleries&artworkgalleryid=726286

Savannah, Georgia (USA), is a city of many cultural expressions and historical influences. It is one of America's original 13 colonies and often appears on lists of top tourist destinations.

This image gallery features fine art photographic images and digital creations in both color and black white. It showcases a unique perspective on various popular sites of historical and sociological significance. In some cases, the images underscore rarely-discussed issues evolving around racial tensions and the so-called wealth divide.

IMAGES


OWENS-THOMAS HOUSE IN SAVANNAH, GEORGIA

Built in 1817-1819, the Owens-Thomas House mansion is part of the Telfair Museums complex and a National Historic Landmark building. It is often described as one of the finest examples of Regency architecture in the United States and when designed and constructed, by architect William Jay, was considered extremely sophisticated.

It is prized today by historians and tourists as a prime example of an urban antebellum structure where slave quarters remain intact behind the main building.

At a time (the 2010s) when large numbers of Savannah's indigenous African-American population are falling prey to gentrification, the elegant mansion is also an important reminder of how far they have come since the American Civil War.


EUGENE TALMADGE MEMORIAL BRIDGE THE MORNING AFTER HURRICANE MATTHEW

Commonly referred to as the Savannah Bridge, the Eugene Talmadge Memorial Bridge was named after a former governor of Georgia. The name is an extremely controversial one because although rightly lauded for his labors on behalf of many, Talmadge was also known to have been an unapologetic white supremacist. Various campaigns to have the name changed have failed but various advocates of diversity and multiculturalism continue to encourage awareness and change.

The photographic image seen here was taken Oct 8, 2016, the morning after Hurricane Matthew swept through the area. The seagull silhouetted near center foreground atop a post held still just long enough for this shot be taken and then flew off.
This is dedicated in memory of the late photographer Jack Leigh, who was a native of Savannah and a master of black and white photography.


THE HURRICANE AND THE CONFEDERATE MONUMENTS

One of the city of Savannah's most admired public spaces, Forsyth Park, became a devastated landscape after the edge of Hurricane Matthew swept through the city on October 7 and 8, 2016. The giant toppled tree seen in this image was one of many that transformed the normally garden-like tranquility of Forsyth Park into something more like a foreboding swamp or a war zone.

The park was the location of an important campground during the American Civil War. That historical footnote is commemorated by the tall fenced-in Confederate Monument framed by the clearing sky, and the smaller bust of Confederate Army Major General Lafayette Laws.

The abundance of monuments documenting history considered important to Southern Whites in contrast to the paucity of such monuments acknowledging the city's large African-American population's accomplishments has long been a source of political and social contention.

Aberjhani

(blog photo of Telfair Academy of Arts and Sciences museum building by Aberjhani)